What Defines Modern Software Development?
Types Of Software Development Services We Provide
Having vast experience in software development, our team has enough expertise to provide competent support and advice services to your company. Among them are:
Provide a comprehensive range of software consulting services during all phases of the development process, starting from establishing an idea to guaranteeing the security and compliance with regulatory requirements.
Uncover the reasons of current projects suspension and lead them to the right path.
Magedia experts can assist you to:
Elaborate or improve the concept of your app
Design the clear vision of future software
Outline and prioritize project requirements
Develop the software architecture, which gives maximum efficiency and productivity to the application
Define the proper technology stack
Elaborate a plan for gradual integration of your company apps
Prevent malfunctions and security breaches in your software
Guarantee the high quality and compliance of your software
In case you deal with product software development, Magedia will assist you to:
Evaluate the vitality and relevance of the future app
Set up risk management and budget planning
Proof of concept (POC) evaluation
Optimal product design defining
ROI improvement tips
Being expects both from technical and industry based side (healthcare, financial services, retail and other spheres), our team offers:
Creation of mobile, desktop and web apps to help our clients carry out the management of their B2B, B2C interactions and internal processes administration.
Provision of broad range of software development services, starting from outlining the demands to ensuring the ongoing support and solution improvement.
Magedia knows how to create a product, which will impress and please your future clients. We will be glad to help you to evaluate, design and check your product idea and elaborate proper software to meet all your client s needs and be competitive on the market, ensuring high ROI. Among the most important points we can outline:
Defining the functional priorities
Timely delivery
Safety
Achieving the high quality standards and compliance
We conform to the policy of openness and self management while working with our clients and helping them to enhance their businesses. As a reliable partner,we can take over any share of your digital transformation objectives:
Software development project, containing business analysis, app development and improvement, quality control and assurance, app performance management, risk management, and other.
Creation of full software development project plan.
Plan for business process improvement and digital transformation, together with ongoing enhancing of quality and decreasing of the ownership costs.
Our Approach To Software Development
Strive to create stable long term solutions.

Intention to achieve high ROI and clear business results.

Quick release of first version of software and subsequent iterative development.

Focus on developing of high level of trust and mutual understanding with our clients.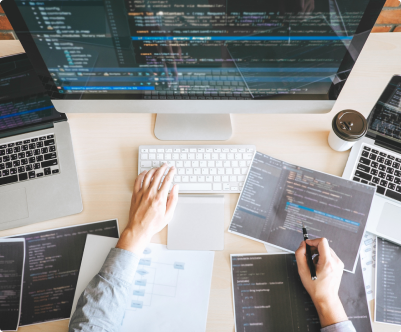 DevOps practices implementation (such as continuous integration and continuous delivery, automated testing and configurations, IaC) aiming to promptly deliver, ensure clean and trusted code,and facilitate deployment.

Efficient communication with all project participants, including business departments members.
Technology Stack
Choosing the right tech stack will ensure a cost-efficient and successful development project. We use only proven tech stack models that deliver the best efficiency, flexibility, and performance.
PHP
WordPress
Laravel
Java
C++
Drupal
Python
Node.js
Zend
Javascript
Jquery
Knockout.js
CSS3
Bootstrap
Vue.js
HTML 5
React.js
Require.js
MySQL
MS SQL
Postgre SQL
Maria DB
Mongo DB
Oracle
Frontend
Javascript
Jquery
Knockout.js
HTML 5
React.js
Require.js