Build one-of-the-kind shopping experience

Create rich and exclusive functionalities

Grow your business with multifunctional integrations
Our services: From Idea to Solution
Magedia helps to adjust effective and multifunctional Magento-based solutions to your company's business goals. Whether you are a freshman in eCommerce or you have already faced some issues while entering the industry, we are ready to give a helping hand and provide our consulting services through all challenges that may arise.
Having vast experience in consulting, we provide our clients with competent advice on how to turn your smart goals into technical solutions, assuring the effective launch of your online store. During joint work and discussions of project details together new bright ideas are often born, which can subsequently become a real competitive advantage.
Omnichannel retailing: complete integration with constituent elements as marketplace presence, facilitating mobile sales through mobile app creation or Progressive Web App (PWA), smooth integration with POS systems. 
Multistore creation: handle multiple websites through a single Magento installation and create customized settings for various types of goods and customer segments.
To protect your business from sudden technical challenges, secure your solution with support services, including effective app management, monitoring, and troubleshooting. Possessing an eCommerce team on board, we are fully prepared to meet your aspirations, changing demands, and optimization plans.
Benefits of using Magento
Powerful ready-to-use functionality and vast codeless configuration opportunities
Incredible speed load to ensure superb customer experience
Target segmentation to make relevant customer recommendations
Responsive optimized product pages to secure  SEO rank
Flexible content management system to publish engaging content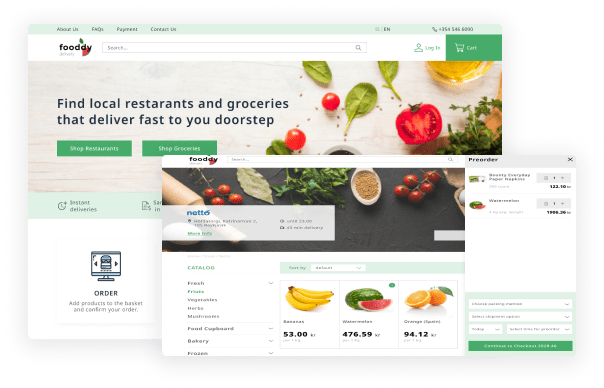 Explore Our Other Magento Services
Estimate your project now

The team of Magedia have consistently delivered excellent products for our organisation. They have helped us solve complex programming and development challanges and created solutions that are stable and that work very well. In all interactions they have been proffessional and produced high quality work with a keep focus on getting the details correct and delivering within tight timeframes required in our industry. I would highly recommened Magedia.
Domingos Ferreira (Director, Quantum Outsource)

The Magedia team is highly responsive and communicative. Any 'panic tasks' are being handled directly. Furthermore, we experienced the team as very flexible, meaning that depending on the issue or the number of open tickets, they have provided us with further developers specialized in a specific field (such as UX Design). Overall, we are very happy to work with Anatoliy and his amazing team, knowing that they will give us a helping hand and profound expertise with any issue arising.
Jana Bachstein (PM at MHDirect)

We built a deep trust with Magedia over the years, and their team leader was acting as a part of our company. In one year we launched sites in several new territories. We saw an 80% sales increase in just one year. Plus we had exceptional support in place, with people ready to fix issues at any time.
Adriano De Petris (CTO at Brandy Melville)

Their attention to detail and velocity was fantastic.Magedia carried out all projects seamlessly and on time. They built a slew of different web applications, both front and back end development. Their work included developing and integrating new features all without disrupting the product's service
Paris Benson (CEO/Founder, Wizely Finance)
Let's rock your eCommerce!
Talk to our experts